Mobimo has a presence in Switzerland's most important business areas. However, our role as a real estate specialist is shaped by ecological and sociocultural considerations, as well as economic aspects.
We 

1

Mobimo buys, plans, builds, maintains and sells valuable and high-yield real estate. create the spaces, our customers 

2

Mobimo's customer base comprises private individuals, institutional investors and companies of varying size operating in a range of sectors. Mobimo values its tenants and buyers and is respectful and highly professional in its dealings with them. fill them with life. This symbiosis produces what we stand for: spaces for living. 

3

The investment portfolio comprises commercial, industrial and residential properties with broad-based rental income and correspondingly steady returns. Through its development properties, Mobimo generates upside potential and capital gains. This area of activity includes the sale of condominiums. Development for Third Parties offers planning and implementation services for institutional and private investors. This covers all areas of planning, including the handover of turn-key properties. We're the go-to specialists here, housing all expertise 

4

In addition to balanced and long-term guaranteed financing, the expansion of the company is based on Mobimo's core competences: buying/selling, development/realisation, portfolio management and property management. under one roof. We're there for our customers, no ifs, no buts. What we design is visible and permanent. 

5

Mobimo strives to gradually grow its real estate portfolio. This growth takes place primarily through the construction of investment properties for the company's own portfolio as well as through the acquisition of individual properties and portfolios. Growth may also be achieved via company takeovers. We consider this a privilege and a responsibility, so we focus on sustainable quality 

6

Quality of life is reflected in the design of its living, leisure and working spaces. In addition to economic considerations, Mobimo also incorporates environmental and socio-cultural factors into its activities. It is also a responsible and attractive employer, creating added value for shareholders, business partners, the users of Mobimo properties and the company's employees. and never lose sight of the fact that we're here to stay. 

7

Mobimo shares are characterised by steady value growth and regular, attractive payouts.
Core expertise
Investment expertise
The investment properties in Mobimo's real estate portfolio are broadly diversified in terms of both location and use, and they generate a stable and predictable income stream. Because Mobimo manages the portfolio itself, it remains close to the market and the tenants. Since the integration of Mobimo FM Service AG, it also provides facility management and related services. The portfolio management team is continuously optimising the investment portfolio.
Development expertise
One of Mobimo's strengths lies in the development of highly complex properties and plots with mixed uses. Mobimo attaches great importance to holding a dialogue with the various stakeholder groups in order to define an appropriate and sustainable project for the location. During development, it draws on expertise gathered from its portfolio of properties.
Zaric crée entre les mondes. Entre l'homme et l'animal. L'enfance et l'éternité. Il va chercher avant ce qui va au-delà. Et nous invite ailleurs, juste à côté.
«Côté cour – Anehom lisant Voltaire et Femlièvre», Zaric (1961-2018)
Board of Directors
Organisation of the Board of Directors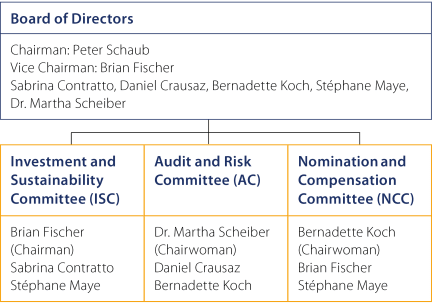 Executive Board