KPIs for the portfolio
88% of the real estate portfolio comprises investment properties. These are broadly diversified in terms of both their location in Switzerland's major economic areas and type of use.
CHF million

31.12.2020

%

30.6.2021

%

Commercial investment properties1

Residential investment properties

Commercial properties (investment)2

Residential properties (investment)

Commercial properties (trading)

Residential properties (trading)

1

Incl. owner-occupied properties, excl. tenant improvements.

2

Excl. right-of-use assets.
Breakdown of investment properties by economic area 1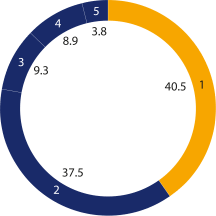 1 Zurich
2 French-speaking Switzerland
3 North-western Switzerland
4 Central Switzerland
5 Eastern Switzerland
1
Breakdown of fair values/ carrying amounts of properties by economic area (investment properties).
Rental income by type of use1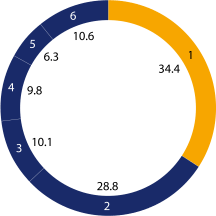 1 Residential
2 Office
3 Retail
4 Hotels/Catering
5 Industry
6 Other use2
1
Breakdown of target rental income by type of use (investment properties).
2
Other use mainly includes car parks and ancillary uses.
Shares of the five biggest tenants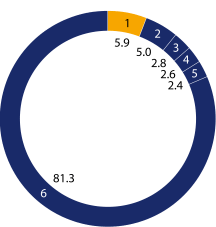 1 Swisscom Group
2 SV Group
3 Coop Group
4 Senevita AG
5 Rockwell Automation Switzerland
6 Other tenants